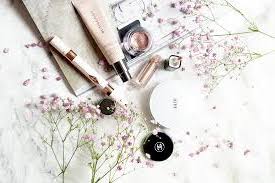 BEAUTY
My favorite room in the house is the bathroom - so we are covering every day beauty to bathroom storage to traveling with makeup and toiletries. We are continuously exploring organization products and minimizing tricks to help you reduce clutter and look your very best. Check out the blog posts in the dropdown below to see products and tips:
Have a specific question on beauty & bathroom organization? Let me know - I'd be happy to answer it!
Space Saving Mascara
Okay, so using one mascara over another doesn't really save space in itself, HOWEVER, years ago I discovered a mascara that does not require makeup remover. IMO, the only reason for makeup remover is to remove mascara. All other makeup agrees to come off your face, it isn't a part of you afterall. But mascara, mascara stays on your lashes, runs down your face, finds its way into your eye - it's the stage 5 clinger of makeup. None of that is appealing to me, so after I met Trish McEvoy and her high volume tubular mascara, no other mascara had a chance of coming near my lashes.
Here's how it works: you apply like normal and go about your day with no runs or re-applications. When you're ready to remove your makeup, just cup water in your hand and place your closed eye in your hand. That's it. The mascara comes off in flakes you're not upset you subjected your eyes to.
Yes, if you're jumping into the ocean or pool, it's going to come off - water is how you remove this mascara. But at least it's going to fully come off vs. live on your face.
So long racoon eyes and so long wasted space, time, and money on makeup remover.
Dop Kits
It's no secret, I love to travel. But traveling can be exhausting if you can't find your things! If you start to organize yourself, travel prep, traveling, and unpacking can be much less stressful. Packing cubes are everything, and this includes the beauty specific packing cube, dop kits.
A few of my personal care favorites to tote along:
Organix travel size shampoo | I have a keratin treatment in my hair, so I always take a sulfate-free shampoo with me. All conditioners are sulfate-free, so I leave this behind to save space and unecessary clutter when I'm looking for an item.
Travel tooth brush and toothpaste | I am very dedicated to my electric toothbrush, but just at home. In case I'm not staying at a hotel with dental kits, I bring along a portable pair.

An alternative item I've been wanting to try out: quip

Comb | Yep, a comb instead of a hair brush. Combs are allegedly better for hair health, and they're smaller - win/win!
Sample size foundaton | If you are the lucky recipient of a leak-free sample container, hold on to it and fill it with your favorite foundation for travel. My favorite: Estee Lauder double wear
If you're going on a shorter trip, merge your beauty and personal care supply filled dop kit with intimates like socks.
And most importantly, always keep your essentials packed for your next trip. These are items that you use every single trip, no matter what, and do not use at home. It's up to you what you include!
Paper Goods Storage
I'm going to make this short and sweet. Unless you're on another level of minimalism and go to the store for a single roll of toilet paper or paper towels every time you run out, you're going to want to read this. Chances are, when you bring home packs of toilet paper and paper towels, you keep it in the plastic. Like dry cleaning should be taken out of its plastic, so should your paper products:
It looks better
Having individual rolls makes it possible to stack and store custom to your area
There's no hassle when you're taking product out of storage
There is no need to go out and buy a basket or container for this storage hack. This kind of defeats the ease of use you gain when you remove the plastic packaging. Plus, homes come with plenty of storage for items like this. These storage locations keep your goods hidden, yet accessible:
Laundry room
Kitchen cabinet or pantry
Under the bathroom sink
Happy wiping!