Travel Tips + Tricks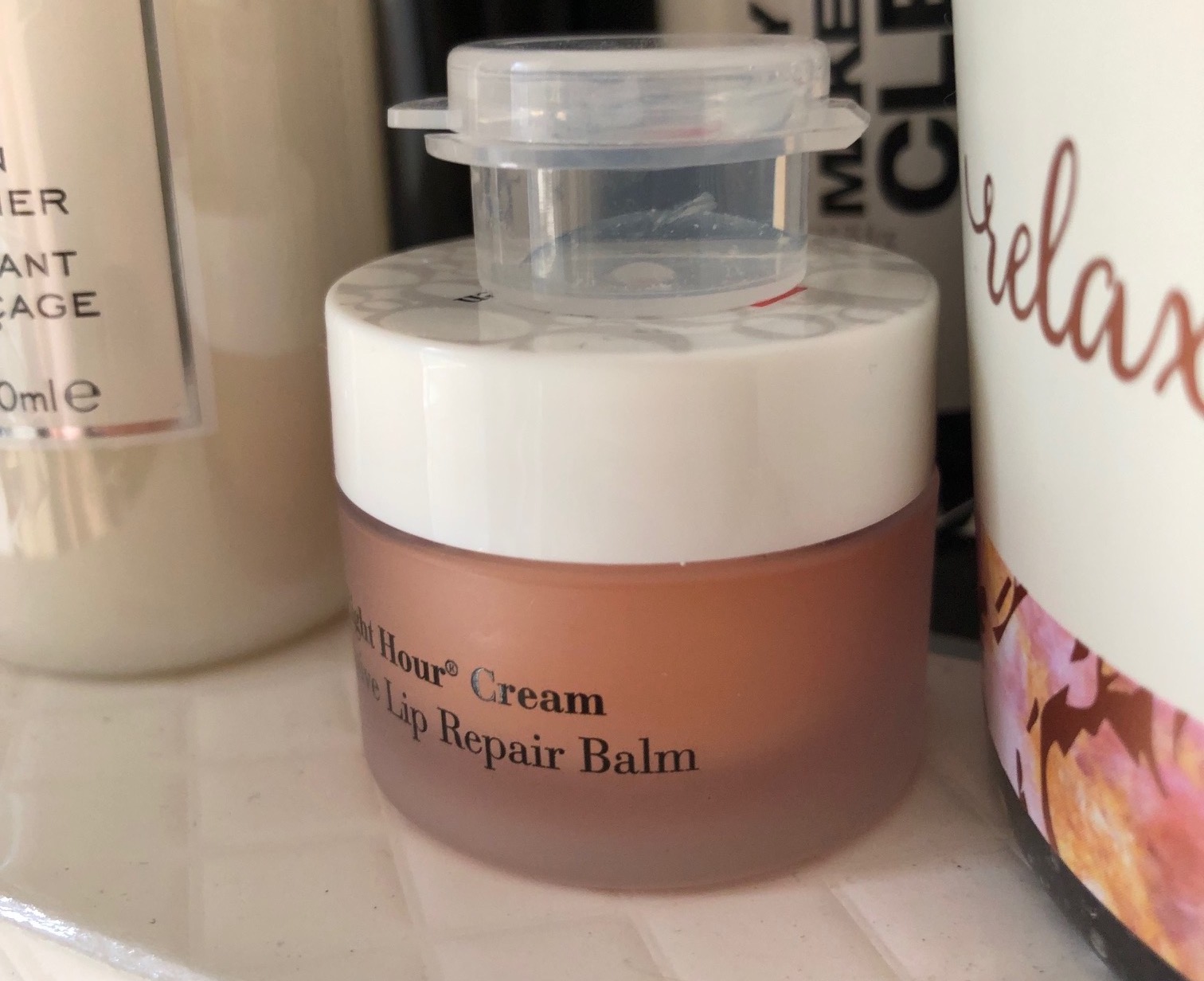 Extreme Ways to Save Space
A fun way to justify self care and love. I mean, you need it to help you travel light, right? :)
| | |
| --- | --- |
| Glasses, contacts, solution | Lasik |
| 10-step anti-aging creams and rollers | Botox |
| Hair tools, anti-frizz serums | Keratin |
| Makeup like mascara and eyeliner | Eyelash extensions |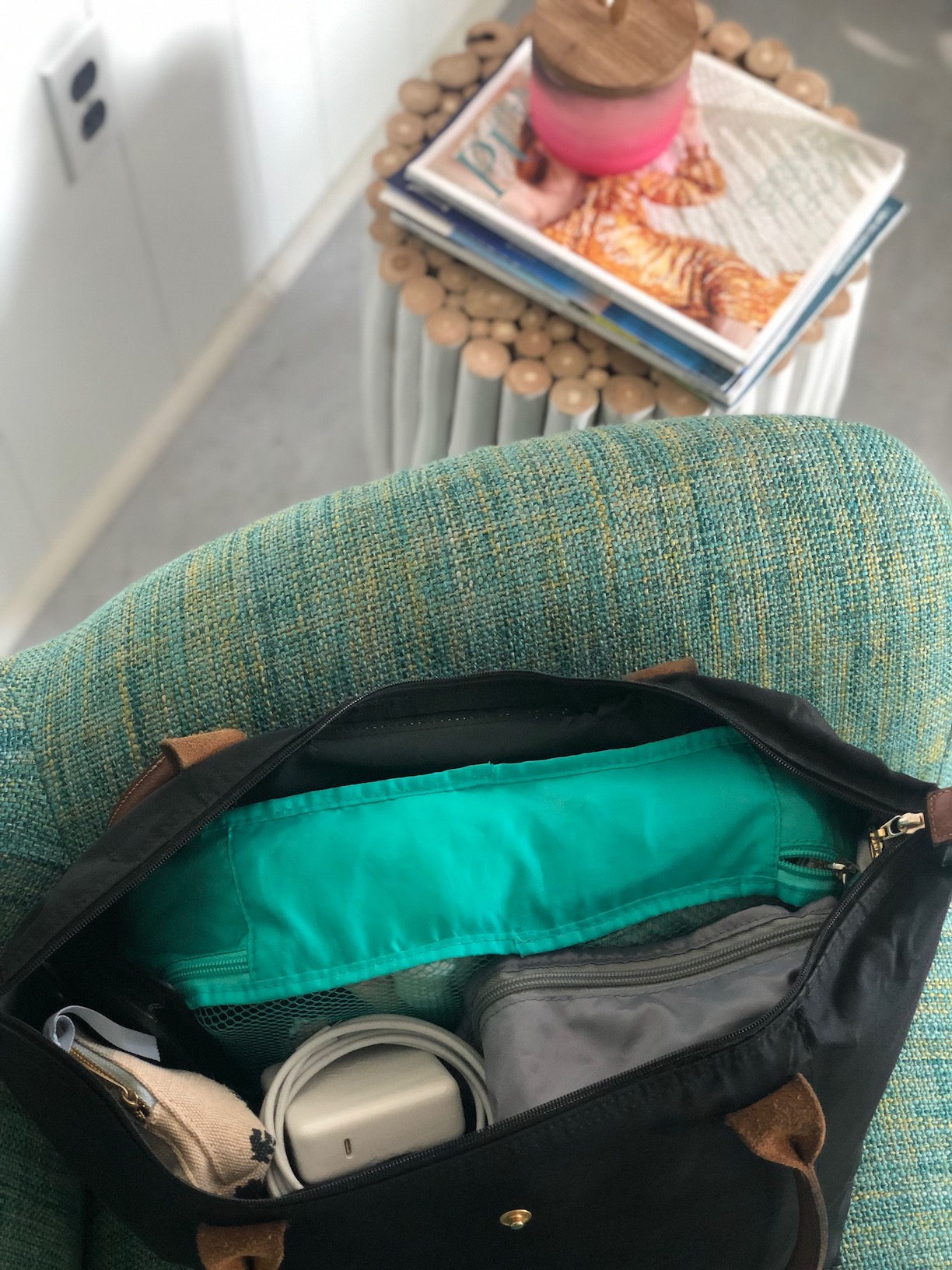 AirBNB vs. Hotels
There is a reason why AirBNBs are cheaper than hotels. Simply put, you don't get as much out of an AirBNB. That includes the little things you'll need to pack. Here's a list to help with packing if you're staying in an AirBNB:
Q-tips
Toothbrush + toothpaste
Soap, soap, soap [This stuff can be so sketch in an AirBNB, if it's provided. And it probably won't be labeled - skip it and bring your own.]

Shampoo
Conditioner
Body wash
Face soap

Make up remover pads
Call house keeping for anything else? Pack it!
Check your AirBNB listing for: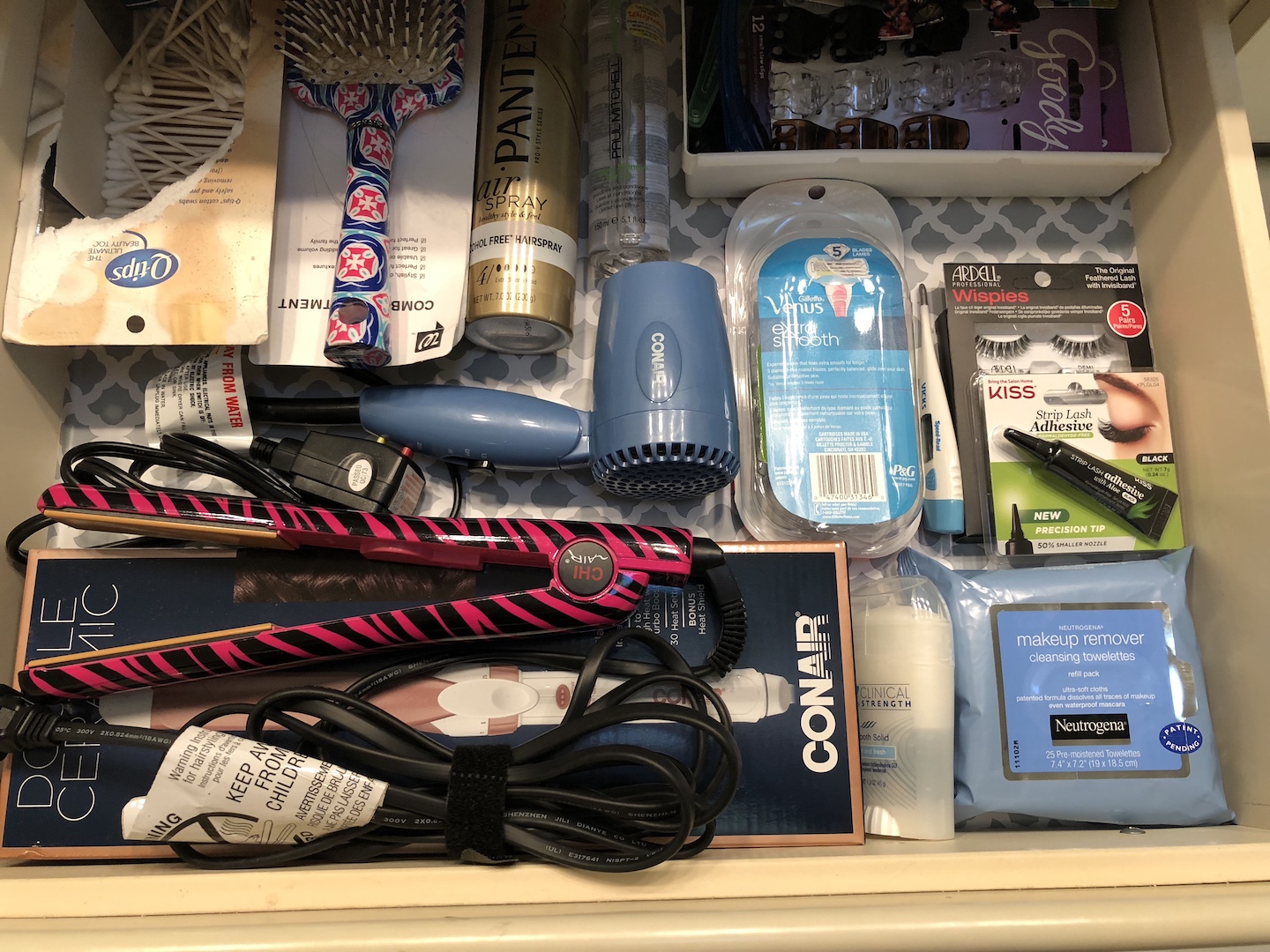 The Never Forgets
Most things can be purchased wherever you travel to, but here's a simple list of those unbuyables to make your packing and travel easy:
Medicine [prescriptions, motion sickness, etc.]
Contacts/glasses
Phone + computer chargers
Headphones that work for your phone AND the plane
Your list may be a little different. The idea is to keep it consistent and easily accessible in either:
A note on your phone
A physical note in a travel bag you always use
Keep it packed year around in a travel bag you always use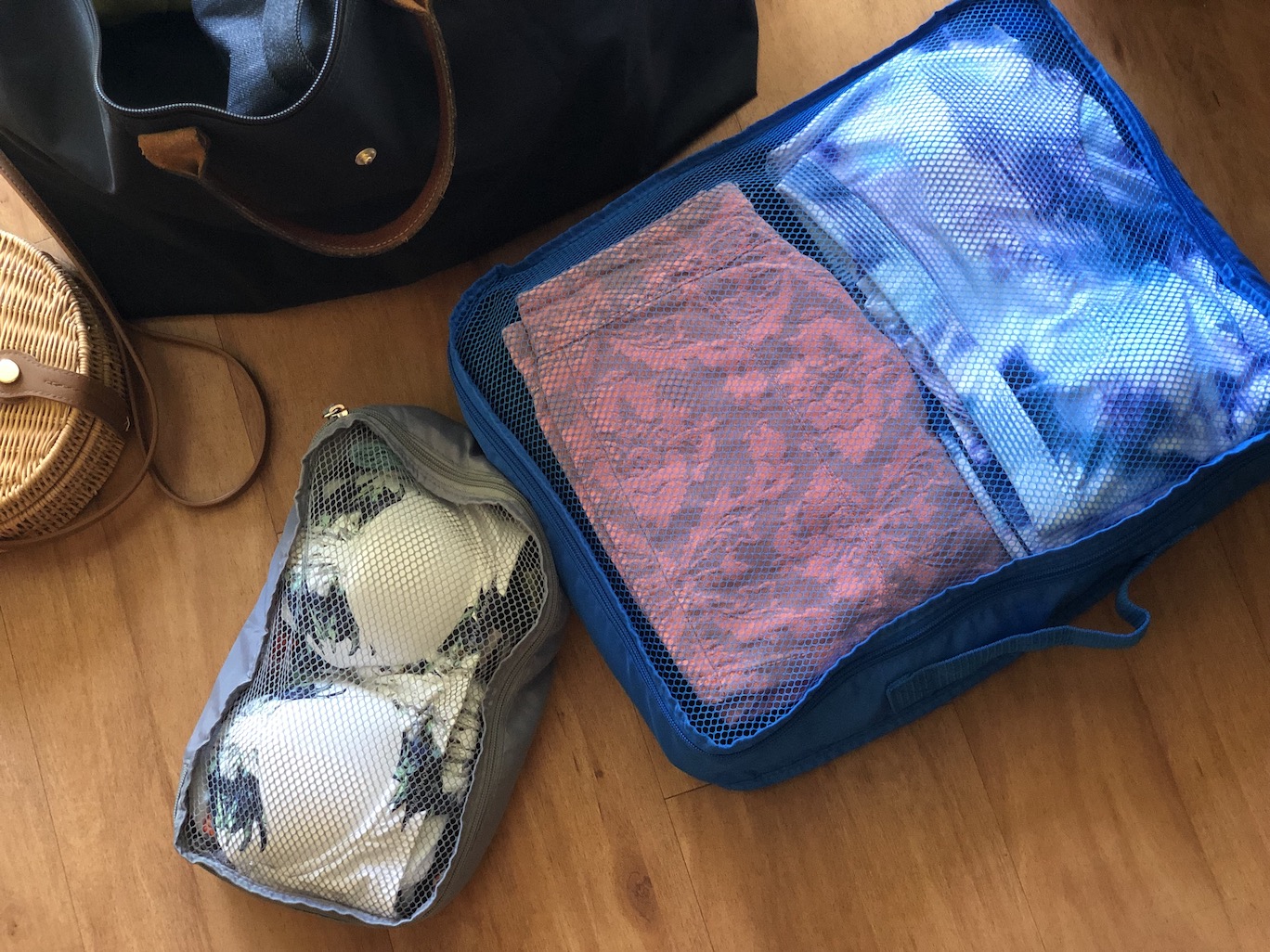 Packing Cubes
It's pretty obvious I'm obsessed with packing cubes. Here's a few reasons why:
I use them to separate my clothes/packed items by category. If I need one thing, I don't have to dig through everything I brought!
They stack nicely next to each other in any bag, creating compartments in a sense
They compress your items, saving you valuable space in your travel bags: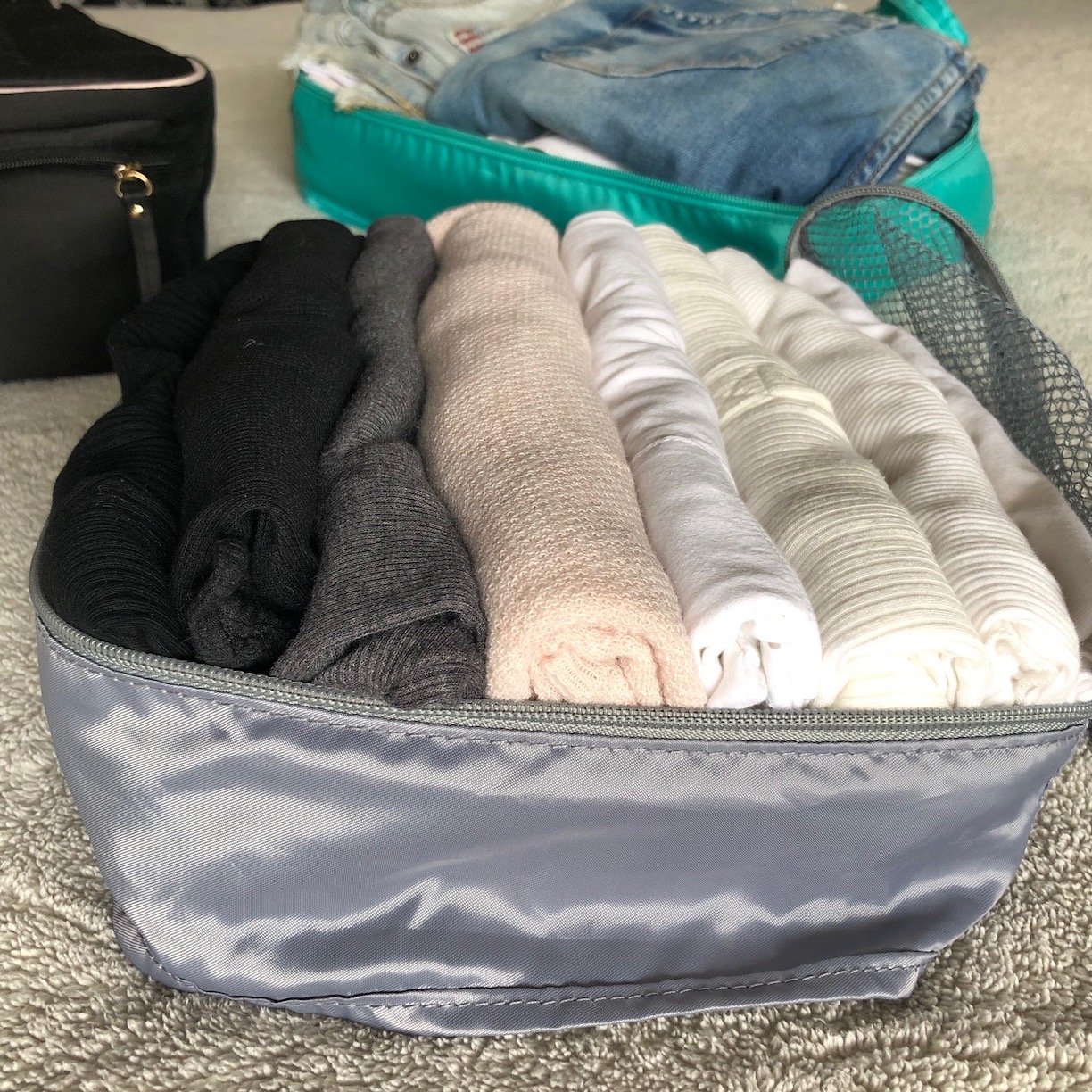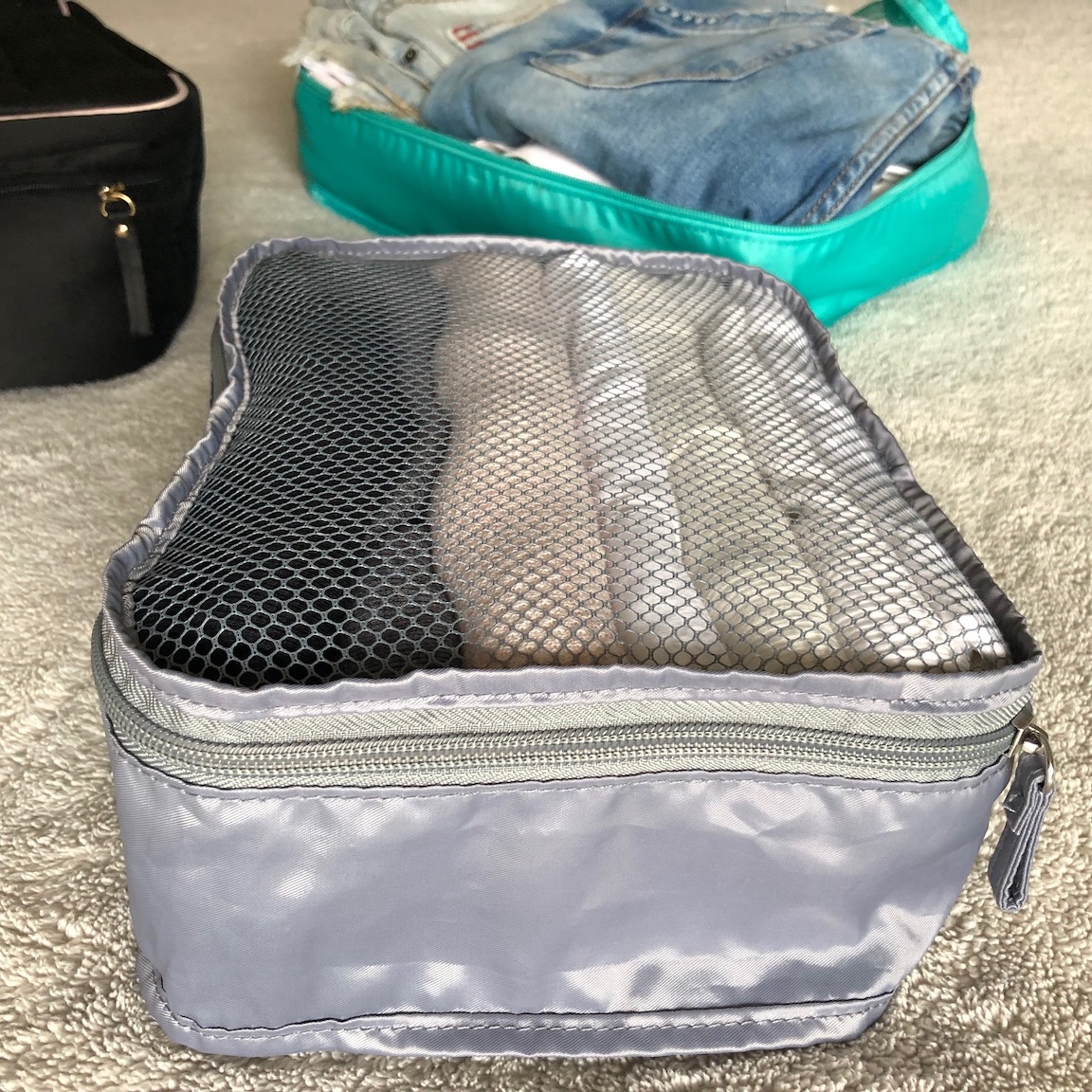 I have had my same set of three packing cubes for over two years and they've gone on every trip with me with no problems. HOWEVER, it is time to start exploring other brands, fabrics, colors, and sizes to find the best of the best. Stay tuned!
How To Prevent Travel Wrinkles
Have you ever heard of putting tissue paper between your clothes to prevent them from wrinkling in your suitcase? I've heard this really works...but I won't be trying it. Here are 3 easy and lightweight ways to tackle wrinkles:
My Little Steamer Go Mini®

Die hard steamer fan? Try this mini version. For the best deal, get it from Bed Bath & Beyond with a 20% off coupon.
Best For: formal events

Any hair straightener

Already packing a hair straightener? Forget the steamer, use this.
Best For: tight packs

Facetune

This app is notorious for being able to make you look like the supermodel version of yourself. Take it easy and lightly use the smooth/smoother tool to swipe out clothing wrinkles visible in your photos.
Best For: the digital savvy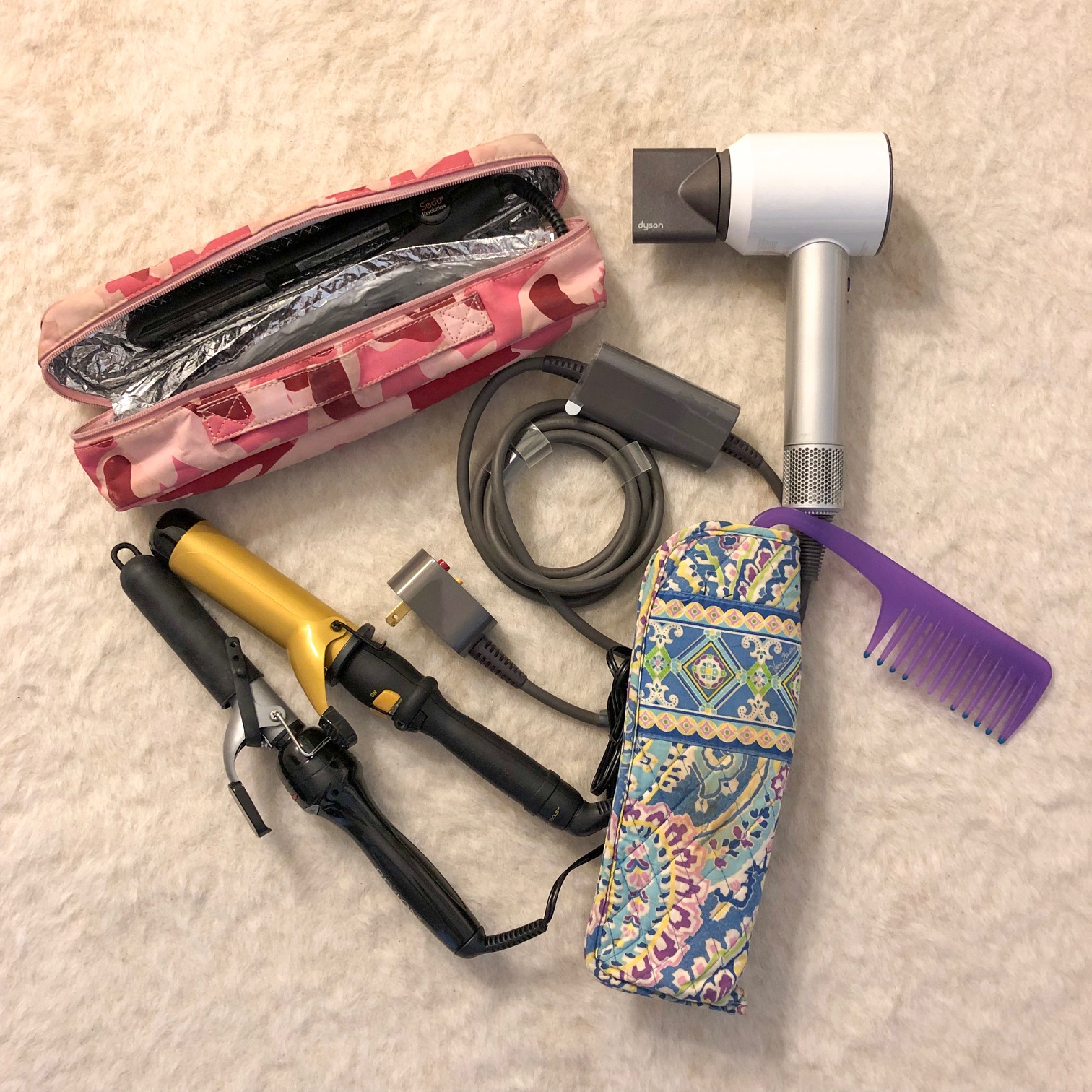 Traveling With Hair Tools
By now we know I'm all about minimalism packing. Packing for your hair is no different, and I promise your Instagram photos won't suffer if you incorporate these tips and tricks:
Hair Dryers
Chances are, your staying in a hotel or airbnb that has a hair dryer (look for this in your search or call/email to ask). Keep your blow dryer that works "so much better" behind. You won't miss it when you're carrying your bags in the airport.
Flat Irons and Curling Irons
More like flat iron OR curling iron. Pick one hair style for the entirety of your trip. If you can straighten your hair with a blow dyer, go with the curling iron. If you can curl your hair with a straightener, go with the flat iron. If you don't need either, don't pack either.
If you are packing a curling iron, choose your smallest barrel and pack with the clip face down into your clothing: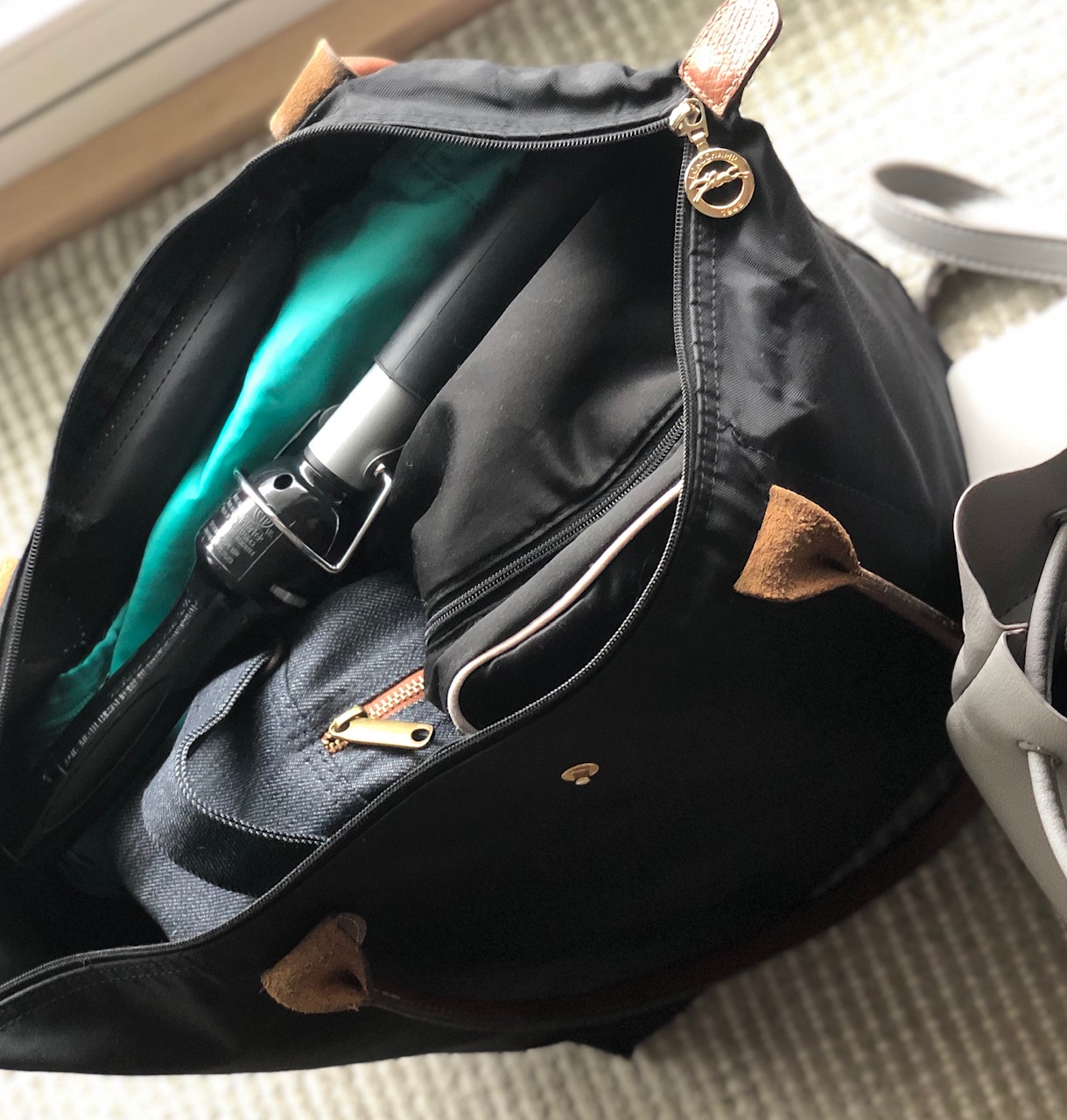 Packing With Friends
Coordinate who packs what with your travel companions. Depending on your party size and the tools you use, each person should have 0-1 hair tools.
Pre-Travel Hair Prep
If you have frizzy and/or curly hair, consider getting a hair treatment pre-trip, like keratin. Basically, anything that you know will give you the flexibility to hop out of the shower and run out the door without spending time "doing" your hair. Optimize space in your bag and optimize time spent well on your trip.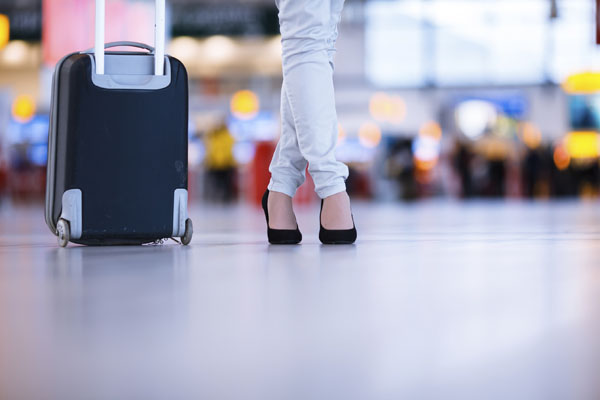 Airport Style
There are really only two things to strive for in a travel outfit: comfort and efficiencies. Lucky for us, athliesure is a thing.
Here are a few travel outfit tips I've learned from my trips:
| What You Probably Do | What You Should Do |
| --- | --- |
| Traveling from a cold to warm location: Wear a jacket to travel to and from the airport. Put this in the overhead storage even though you know it's not allowed. Lug it around on your vacation. Almost forget it at the hotel because who wants to go back to cold weather anyways. | Layer, layer, layer: I'm not opposed to the idea of wearing what is meant to be in your suitcase. When you arrive at your destination, it's easy to maintain comfort by unlayering down to your lightest layer and wrapping your heavy layers around your waist. |
| Get mistaken as "the bag lady". You have a piece of luggage (hopefully it's a carry on bag), a personal bag, more bags in your bags. | Select MAX two bags: one day bag and one night bag to bring with you. Your personal bag should be either one of these. Bonus points if your personal bag slides on to the handles of your luggage AND fits your laptop. |
| Wear one travel outfit to your destination, pack a second travel outfit to come home, and never wear any of these items in between. | So maybe you add your hat to your travel outfit because you have no idea how to pack it, but that's not what we're getting down to here. You can wear the same travel outfit to and from the airport. Those layers we were talking about earlier - make them items you wanted to pack anyways. A sweater for the beach, a basic tee for any bottoms, sneakers for outdoor activities, etc. |
Even if you are one to snap a pic at the airport, just don't take one on the way back. And now I've saved you time getting ready for the airport too.
Here are some travel outfit ideas:
Dress It Down
Dress It Up
Layering tops is simple. You start with your tightest fitting clothes to loosest:

On top:

basic tank or tee
any variety of short or long sleeve shirt (basic, plaid, chambray)
1-2 sweaters (summer sweater, open front, etc.)

Leggings layer ridiculously well on top of each other. Highly recommended if you plan to do yoga, hiking, or other outdoor activities on your trip.
No judgement if you throw sweatpants on top of that.
This outfit of course pairs best with athletic or fashion sneakers - use your itinerary to decide what you'll need most.

For the girls who are not into the sweatpants look:

Ever notice how much space cotton maxi dresses and skirts take up? Just wear it on the plane and voila - you deserve an upgrade.
Layer a skirt on top similar to how you would leggings, or go straight for long sleeve or sweater layers over your dress.
You can definitely pull off a white fashion sneaker with this look - or save space in your carry on by wearing wedges.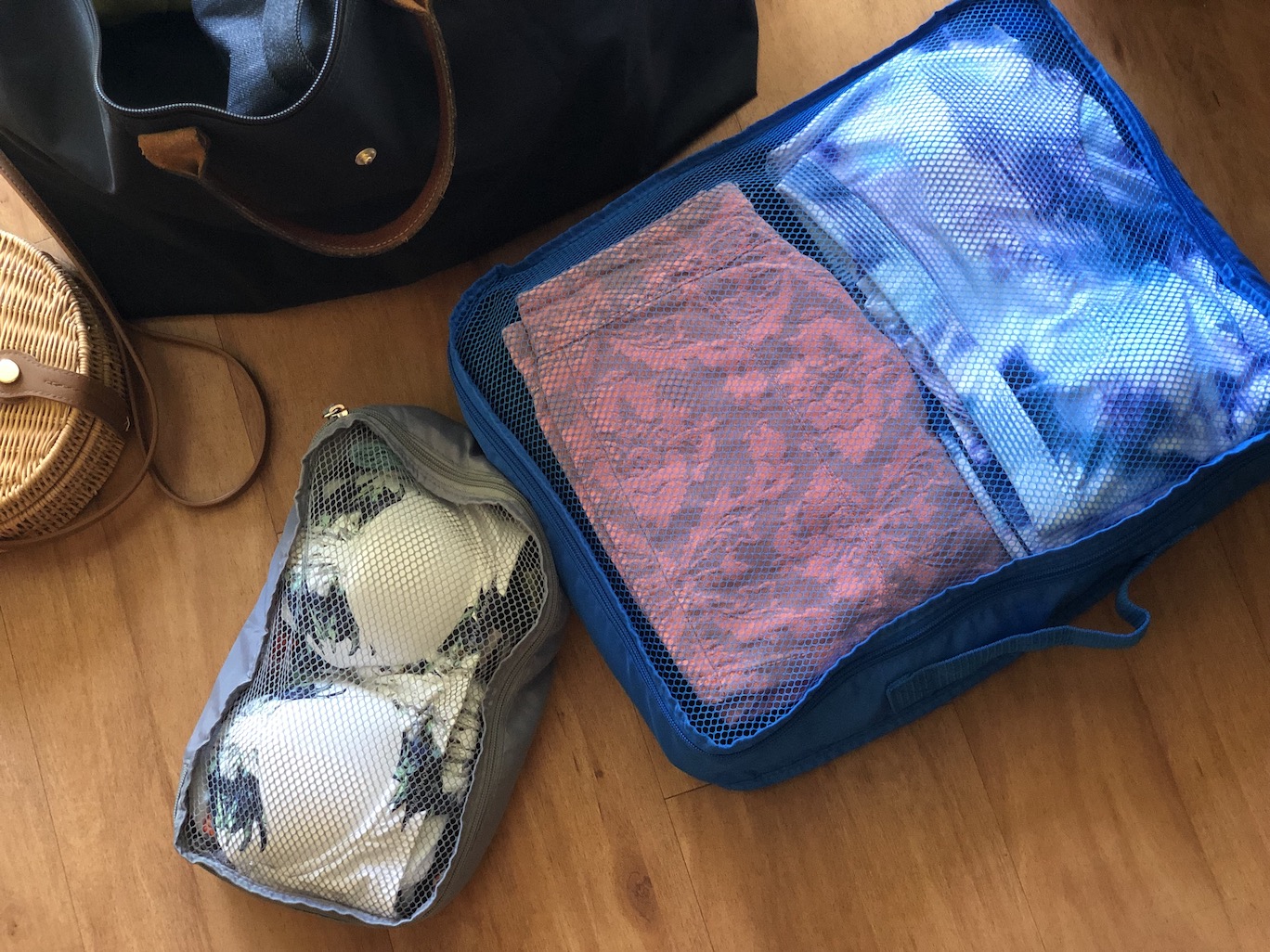 Dop Kits
It's no secret, I love to travel. But traveling can be exhausting if you can't find your things! If you start to organize yourself, travel prep, traveling, and unpacking can be much less stressful. Packing cubes are everything, and this includes the beauty specific packing cube, dop kits.
A few of my personal care favorites to tote along:
Organix travel size shampoo | I have a keratin treatment in my hair, so I always take a sulfate-free shampoo with me. All conditioners are sulfate-free, so I leave this behind to save space and unecessary clutter when I'm looking for an item.
Travel tooth brush and toothpaste | I am very dedicated to my electric toothbrush, but just at home. In case I'm not staying at a hotel with dental kits, I bring along a portable pair.

An alternative item I've been wanting to try out: quip

Comb | Yep, a comb instead of a hair brush. Combs are allegedly better for hair health, and they're smaller - win/win!
Sample size foundaton | If you are the lucky recipient of a leak-free sample container, hold on to it and fill it with your favorite foundation for travel. My favorite: Estee Lauder double wear
If you're going on a shorter trip, merge your beauty and personal care supply filled dop kit with intimates like socks.
And most importantly, always keep your essentials packed for your next trip. These are items that you use every single trip, no matter what, and do not use at home. It's up to you what you include!