Explore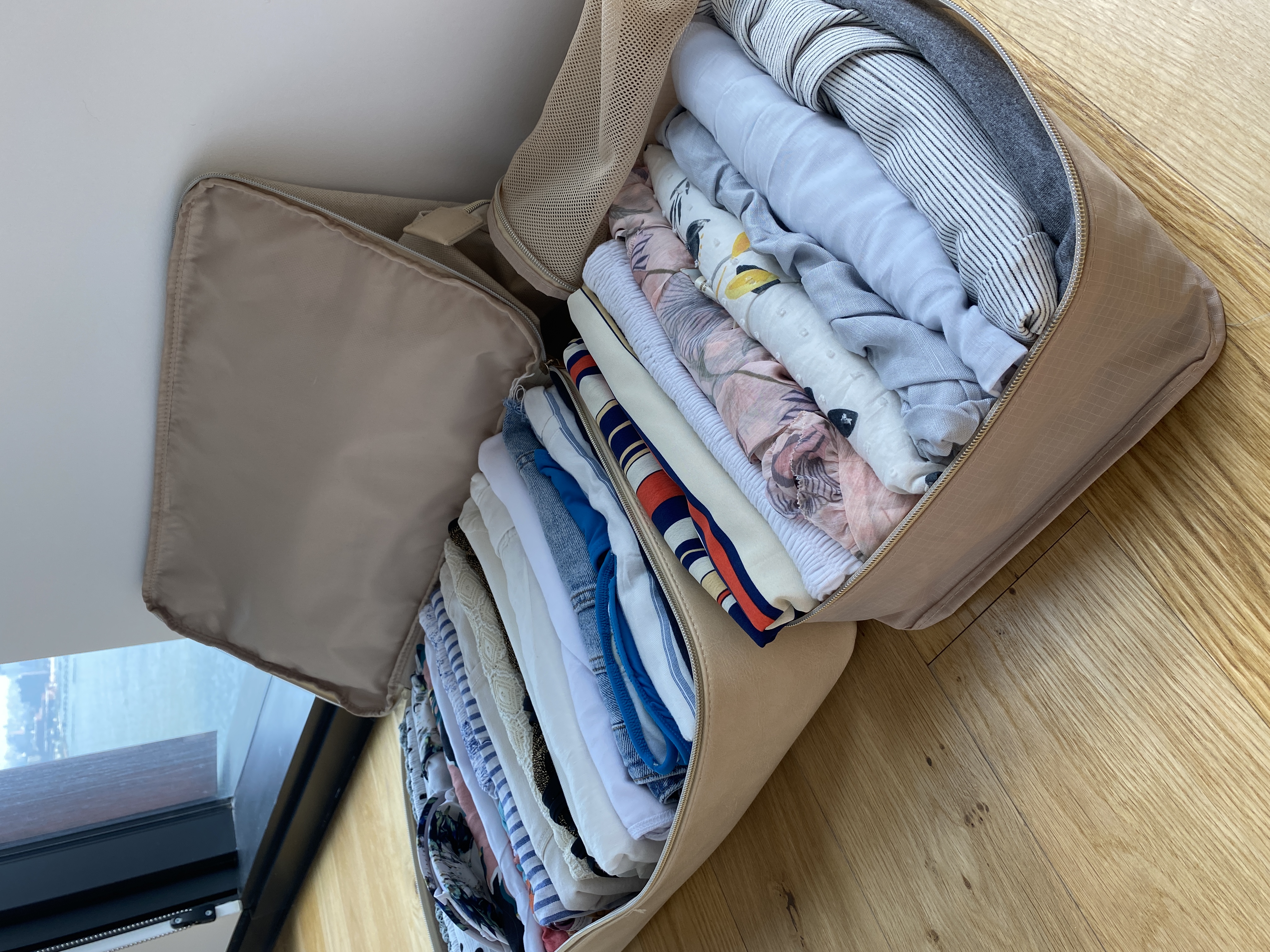 How To Pack A Carry On Like A Pro
Losing checked luggage isn't a new concept, it's just way more common now.
It's been over a month since everyone's been traveling to Europe and landing without their bags they checked. If you've never had your checked bag lost, good for you. Now is not the time to take your chances. To all my people thinking you need *options* or your full size hair products..just think about what's going to happen when you have 0 options and 0 hair products.
If you're not sure who I am and stumbled on my page, hi welcome :) I had my checked bag lost years ago and somewhere between then and now, I've become a professional packer on all the socials [TikTok, Instagram and YouTube] so you don't have to know what it's like to have your bag lost.
Here's my advice to help you pack accurately. Take what resonates and give yourself grace. With practice, your folds will get better and your packs will get smaller.
How to pack in a carry on or personal bag from a professional packer
Mindset. You're going on vacation! Experiencing the world is one of the most exciting things you can do in your lifetime. Think about a highlight of a past or future trip and think about a favorite outfits you've worn on a trip. Now you tell me which memory you'd rather have forever.




Hair tools. My rule is one hair tool max a trip. If you're going on a group trip, coordinate with your friends who's bringing what so you can cover the bases. If you're traveling abroad, make sure your hair tool isn't a higher voltage than the outlet can take because if it blows out, you won't have that hair tool for vacation..or at home now either. Also check if your accommodations have a blow dryer for you already.





Hair products. Another one your accommodations might already have. Maybe you're specific about the shampoo and conditioner you use. Want to bring them both? Grab the travel size version of your favorite brand. Need something sulfate free? All conditioners are sulfate free so you can leave your conditioner behind. PS, other ways you can use your accommodations' conditioner while you're away are to hand wash your underwear, as a detangler post jumping into the ocean, to remove your makeup, as shaving cream, and to loosen zippers or rings that are stuck.




Makeup. If you're like everyone else right now and you're going to Europe, it's HOT and probably going to melt the makeup right off of your face. Save yourself the time you take to do a full face, the constant makeup checks and the potential embarrassment by going with a 5 minute face. Here's what I've been bringing this summer:





Also, bring products and palettes that can be versatile for more than one use (like blush and lip tint, bronzer and eyeliner) or a palette with colors you like that also go with all your outfits to give you more than one look if makeup is a personality trait of yours.




Toiletries. Bring what you need. If you have a toiletries bag pre-packed, go through it before you go away or before you start throwing more things in. Do you have three tubes of tooth paste in there? A few things of floss? Enough Advil for the year that your travel partner is also bringing?




Clothes. Vacation you is more similar to everyday you than you think, with the exception that you WILL bloat, so don't bring those uncomfortably tight pieces that probably shouldn't be in your closet anyways. Also:

Look at the weather forecast
Get inspired. Ask friends who have visited before what they wore and look on social media
Bring favorites that make you feel your most confident
Pack in outfits, not pieces
The more you can mix and match, the better. A color scheme helps here too
Limit your bulky items
Plan according to your itinerary
Give your outfits more versatility than one planned use. Can a dress or outfit go from day to night just by changing your shoes?





Shoes. Another one of my rules is bring three pairs of shoes. Wear one to travel (one of your bulkier pairs) and pack two. Sometimes I go with a sneaker, heel and sandal. Sometimes a black pair, neutral pair and colorful pair. I'm scary good at walking in heels, but some places I'd never bring a heel, like Costa Rica and some places I'd never bring a stiletto, like the Greek islands.




Packing Tetris. Place your things in your bag with intention. Use all the available space and create separation between your clothes, shoes, etc. I could go on forever about this, but it's really best to show you so check out my TikTok, Instagram and YouTube for more.



ENJOY YOUR TRIP!